Have I told you how much I love my library?
Zoe, Age 12
I love crafts via Zoom!
Josie, Age 3
I love curbside pickup!
Rosie, Age 16
I love the children's room!
Amy, Age 12
I love how much the library has taught me
Reid, Age 10
I love crafts at the library!
Beckett, Age 4
We love book club!
Linda, Age -
I love Grafton Public Library!
Ragnar, Age Not sure
Thank you, Worcester Public Library
Sheila, Age 70
I love the books and fish tank!
Ronan, Age 1
I love story time!
Keating, Age 4
I love the Zoom programs!
Zoey, Age 6
I love audio books
Keating, Age 4
U + I = love
Cecilia, Age 5
Can never have enough books!
Esme, Piper, Kate & Carl, Age -
The library = possibilities
Becca, Age 43
We've got the perfect book
Tina, Age 41
I love my library!
Morgan, Age 24
I love picking up books!
Pat, Age -
A valuable asset for our community
Sue, Age 68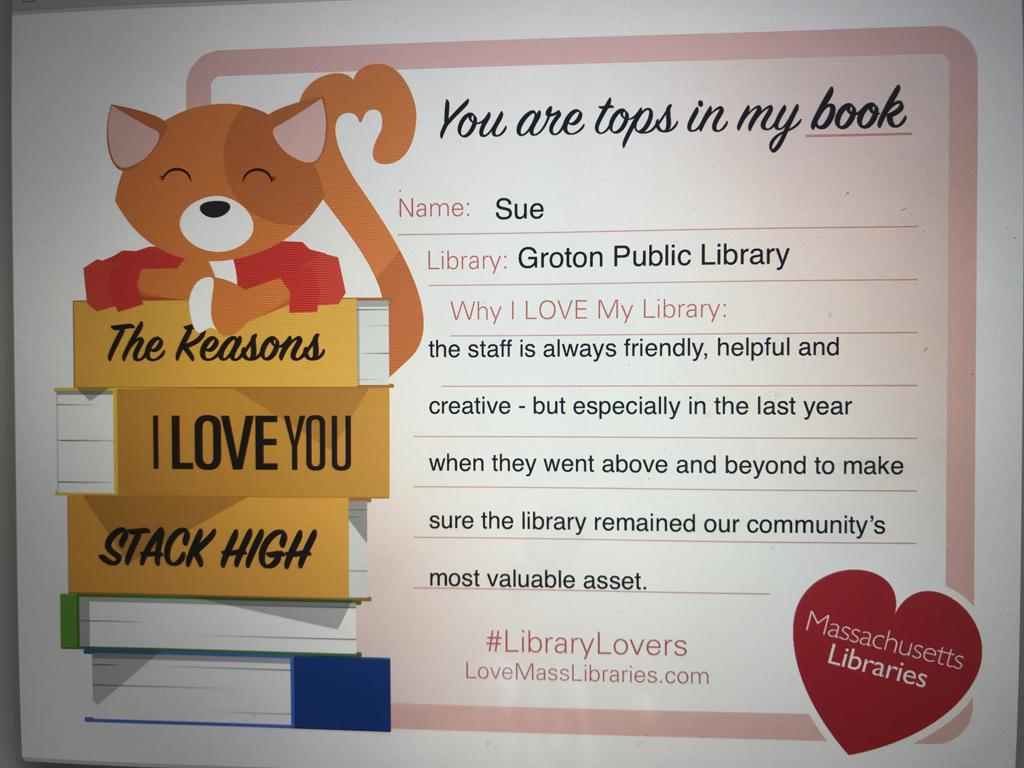 Our community's most valuable asset
Sue, Age 68
We love Forbes Library!
sue, Age 72
Lots of reasons to love the library
Meredith, Age 51